A Round Up of 10 Valentine Gifts Suitable and Meaningful for Grandparents
Valentine's Day is so very close and maybe you are looking for a last minute gift for Grandma or Grandpa.  Here are 10 gift ideas that might be helpful and suitable for them.  I'm sure you can find something that they will love.
Honestly, being a grandparent, I don't have to have an expensive gift, but I do love it when my kids and grandkids show their love, and they always do in so many ways:  a surprise party, a handmade card or valentine,  a picture they drew; these are the best gifts that I have received.
But if you must, then grandparents always love other things too.  So take a look and buy a great valentine gift that they will treasure all their days.  
Valentine Gift Ideas for Grandparents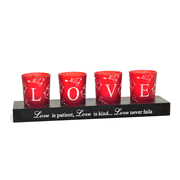 LOVE Votives and Holder, Set of 4
Set of four frosted glass votives trimmed in pink swirls and L-O-V-E on red glass; fitted on 12″ long rectangular base with sentiment: Love is patient, Love is kind, Love never fails. For table or mantel display; add your own candles to the votive holders and create a welcoming glow in any room.

---
Written Reflections ballpoint pen with pull-down banner displays a collage of Scripture phrases on the topic of Love.
Love…Do everything in love…Faith, Hope, Love and the greatest of these is love…Heart and soul…Love never fails…Love always…Love is patient…Love is kind…A friend loves at all times…Live, laugh, love.
---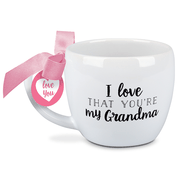 I Love That You're My Grandma, Mug with Bow
Gift mug with handtied grosgrain bow as the finishing touch, and a sweet and simple sentiment in black script on white.
Ceramic bistro mug holds 12 ounces; heart shaped I love you tag.
I love that you're my Grandma with Scripture quote from Philemon 1:7, Your love has given me much joy and comfort.
---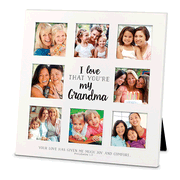 I Love That You Are My Grandma, Collage Frame
Collage style photo frame with black script written sentiment on white frame and features printed Scripture verse on the bottom.  8.5″ x 9″ frame holds eight 2″ x 2″ photos
I love that you're my Grandma
Your love has given me much joy and comfort. Philemon 1:7
---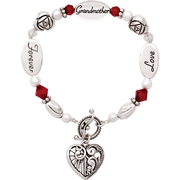 Love, Grandmother, Forever Bracelet
Pretty bracelet for grandma, a strand of silvery beads, pearl beads and faceted glass beads. Three medallions engraved Love, Grandmother, Forever. 8″ long; secure toggle clasp with filigree heart charm. Elegant gift box with satin lining and ribbon trim; message card with sentiment.
---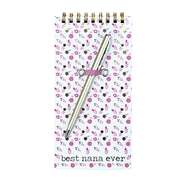 Best Nana Ever Spiral Notepad with Pen, Pink
Best Mom collection
Purse size spiral notebook with silvertone ballpoint pen
Best Nana Ever sprigged floral design
Colored elastic holds the pen right on the cover
---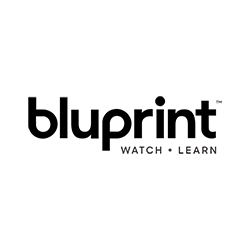 Valentine's Day Patterns & Classes
---
Something for Grandpa: No doubt you can find a great product on this sight for grandpa or for anyone.  
---
My Memories Suite Scrapbook Software.
This is a great scrapbooking software that I use myself.   If a grandmother or mom or daughter or someone you know likes to save pictures into memory files, this would be great for them.  Give it a try.
---
Kindle Books for Grandpa or for Grandma too.  The Wiersbe series is great!  Or check out some other book lists HERE or HERE 
And this book on prayer is one of my favorites.
---
And don't forget to check out these other offers:
Here are some great valentine gifts for kids.  Maybe you can find something for that special grandchild in your life. 
The best gift we can get them is to leave them a godly legacy.  (Here's how you can do that)  
We can also instill Biblical Truths into their lives every chance we get.
Sign up below and you'll receive a free 30 day devotional E book.